Antique desks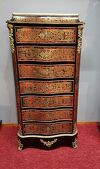 Secretaire in 'boulle red tortoise', 19th century
Secretaire in 'boulle red tortoise', 19th century, o
Opening with a flap opening onto a storage compartment and four drawers,
Underneath three drawers in the lower part.
Tablet in marble and decorations in gilt bronze.
Period: 19th century, Napoleon III period.
Dimensions: +/- 58x122.3x35.5cm.
Details ›

Marquetry secretary anno 1700
Marquetry secretary anno 1700
England around 1700 Origin: England
Baroque style period
Various types of wood
Height 230 cm.
Width: 110 cm.
Depth: 60 cm.
Details ›





Antique Rolltop desk
Antique Flower-mahogany rolltop desk
The Hague, Holland
Stamped: Drouot, `s-Gravenhage
Louis 16, circa 1780
height 52 inch, width 50 inch, depth 22,4 inch
Details ›